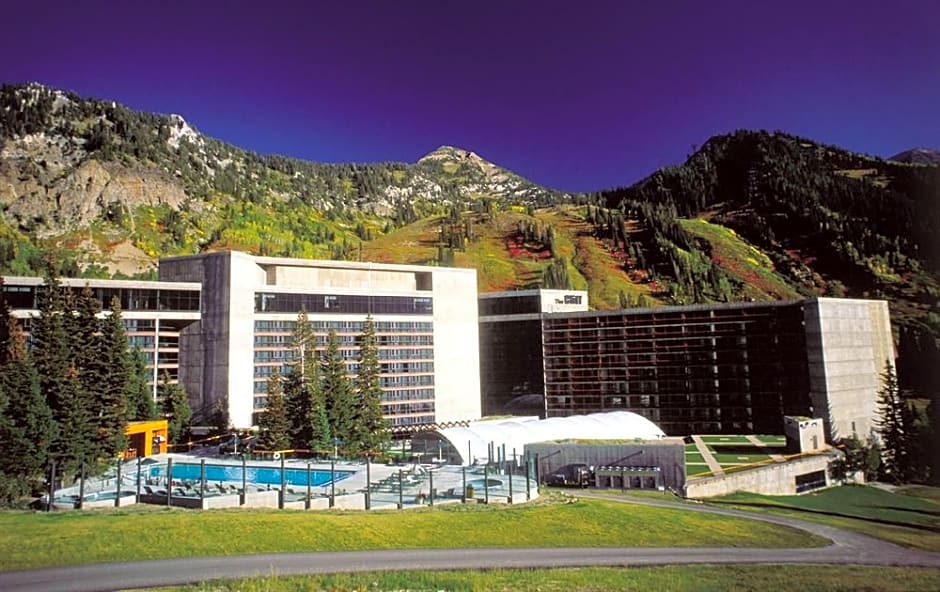 Se alla bilder i galleriet
Boka online nu
1 Rums Med 2 Vuxna
Ändra sökning
Just 25 miles from downtown Salt Lake City, the Cliff Lodge and Spa enjoys an outstanding Snowbird location near plenty of Utah's finest ski-resorts, golf clubs, and attractions. Hot spots like the Snowbird Ski Resort, Brighton Mountain Resort, Solitude Mountain, and the Canyons Resort - as well as the Park City's famed Mountain Resort and Golf Club, are to name a few. This superior 3-star ski haven is also only 175 feet from the Village Center, and the convenient aerial tram to the acclaimed 11,000-foot Hidden Peak.

Accommodation
Featuring wall-to-wall windows with awe-inspiring mountain or canyon views, Cliff Lodge vistas are modern, spacious, and well equipped with an array of contemporary amenities such as flat-panel TV with pay movies and video-game console, desk, multi-line telephone with voice mail, clock radio, refrigerator, iron/ironing board, and coffee/tea maker. In addition, comforts such as air conditioning/climate control, blackout curtains, opening turndown service, and wake-up calls help ensure restful nights of slumber while private bathrooms come luxuriously complete with marble vanities, designer toiletries, hairdryer, and shower/tub combination.

Hotel Facilities
Besides the seemingly endless list of celebrated ski-resort/spa highlights and services, there are loads of additional recreational opportunities available directly on Cliff Lodge's exclusive, smoke-free grounds including a state-of-the-art a fitness center, solarium - with slope-facing chaise lounges, and a year-round, heated outdoor pool with three spa tubs and poolside bar. Hiking/biking/walking/running trails, ice-skating rink, alpine slide, tennis, arcade/game room/billiards, pilates/yoga classes, aerobics, fishing, and even a fun-filled playground for the little ones are also available on site while horse riding/rental, volleyball, and golfing are within immediate range. What's more, business and leisure patrons alike may benefit with on-site access to wireless Internet, comprehensive business/secretarial equipments and services, multiple meeting rooms ballroom/banquet and events facilities, and much more.

For fantastic in-house dining, Cliff Lodge presents a number of options offering an exquisite selection of Internationally inspired cuisines: from progressive American with a French flair, mouthwatering Mexican/Southwestern, and deliciously fresh sushi a-la-carte dishes to casual buffets, and light snacks - there are enough options of ambience and taste to suit virtually any desired culinary experience. Furthermore, for three nights a week during the winter, guests can even add superb live jazz entertainment to their dining pleasures at The Aerie.

Parking/Transportation
Cliff Lodge and Spa is conveniently located just 30 miles from the Salt Lake City International Airport. For those travelling with vehicles, free parking and valet parking options are available on the property.
Gæstevurderinger
Klicka här för att ge er åsikt >>
Så bokar man
Att boka är enkelt och tryggt. Fyll i de datum som önskas för ditt uppehåll skicka formuläret.

När rumstyp och priser visas på skärmen igen kan du välja det pris du önskar efter att ha läst informationen i mitten på skärmen, och därefter klicka på knappen "Boka Nu" på skärmens högra sida. När du valt önskad typ av rum kommer du till ett formulär för "Slutför bokningen". Därefter ska du kontrollera "Information om vistelsen" och fylla i de tomma textfälten i formuläret med "Information om gäster".

Se till att ditt namn och din e-postadress är korrekt stavade. När du har fyllt i all behövlig information klickar du på knappen "Slutför bokningen".

För att garantera säkerheten använder en säker server som krypterar kreditkortsnumret och kodar om det så att det blir oanvändbart.
Se alla bilder i galleriet
Områdesinformation
Flygplatser

Salt Lake City, UT, United States (SLC-Salt Lake City Intl.)

- 22.13 mi

Provo, UT, United States (PVU)

- 25.36 mi

Ogden, UT, United States (OGD-Ogden-Hinckley)

- 46.05 mi

Evanston, WY, United States (EVW-Uinta County)

- 57.82 mi

Nephi, UT, United States (NPH)

- 59.45 mi